The Student Affairs Administration Master of Arts degree is for those who are or wish to become student affairs administration specialists (e.g., directors/coordinators of career planning/placement, co-curricular activities, financial aid, student programming, outdoor programs, residence life, etc.) in a college or other post-secondary educational setting.
We emphasize applied practical experiences under the guidance of talented partners/professionals in the Division of Student Affairs team. Students MUST hold a graduate assistantship in order to be accepted into the program. Students graduate with over 1700 hours of experience working with students and student groups.
The program is currently a 48-credit hour graduate preparation program in compliance with the Council for the Advancement of Standards in Higher Education (CAS). https://www.cas.edu/standards. Note: In Fall 2020, we will seek approval to reduce the hours to 45. This will not impact the 2022 cohort.
Students matriculate in a cohort-based model whereby students take required classes together and offer support to one another throughout their two-year academic journey.
Program of Study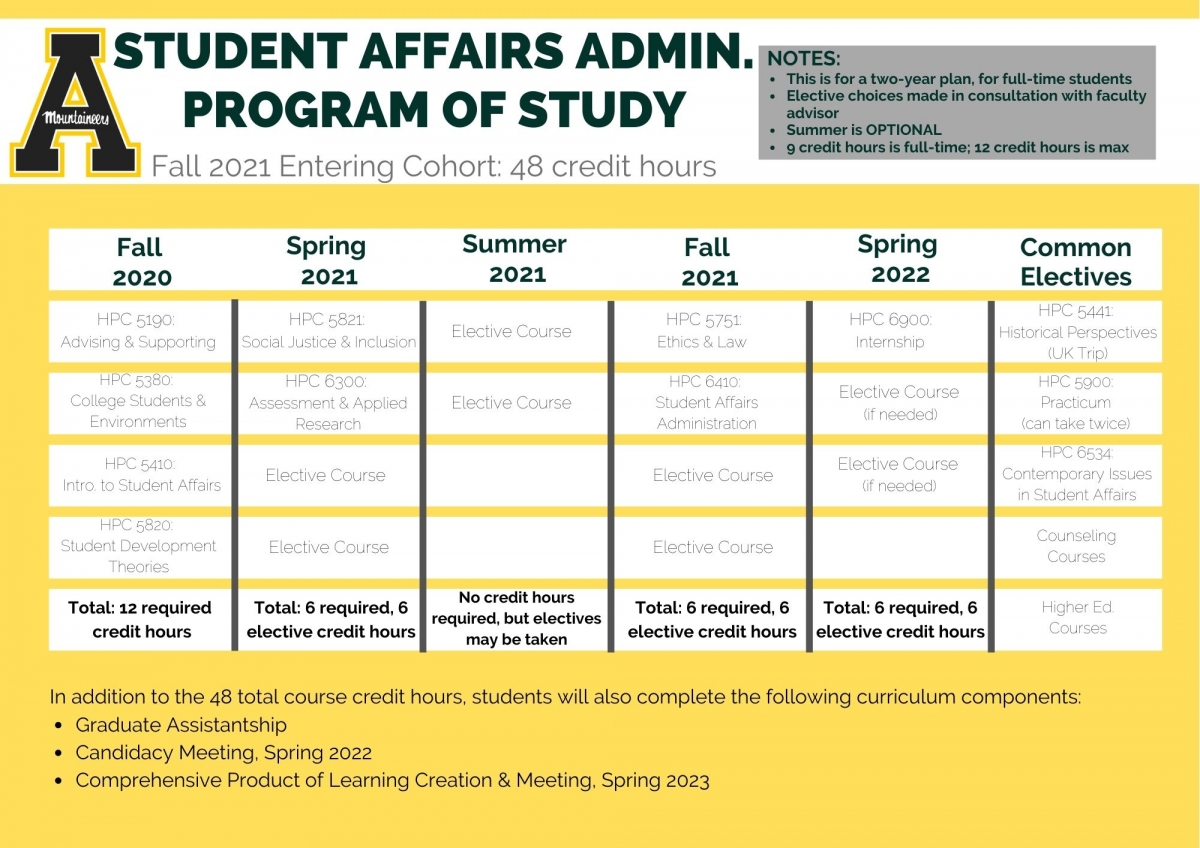 A student's Program of Study is designed around required core courses as well as elective courses. Other learning experiences, such as internships, graduate assistantships, practicums and summer experiences add practical experience to the learning process.
Each student is encouraged to pursue their own educational and professional goals to the extent possible within a wide range of curricular choices. In general, the curriculum is designed to provide students with appropriate knowledge about the professional field while grounding students in the theoretical framework necessary to guide current and future study and career development in higher education.
Please note that all courses are taught from a social justice perspective which emphasizes the differing experiences, cultures, histories, and perspectives of people from a variety of ethnic, gender, racial, and social class backgrounds. It is the student's responsibility to develop a plan of study with her/his/their advisor during the fall semester of your 1 st year.
Organizational Structure and Physical Location
The SAA program is located within the Department of Human Development and Psychological Counseling (HPC) . The Department of Human Development and Psychological Counseling is a department within the Reich College of Education (RCOE), but is also accountable to the Cratis D. Williams School of Graduate Studies (aka- the Graduate School) at Appalachian State University. Dr. Amy Milsom is the Chair of the Department of Human Development and Psychological Counseling; The Dean of the College of Education is Dr. Melba Spooner. All programs offering graduate degrees at ASU are coordinated by the School of Graduate Studies. The School of Graduate Studies sets university-wide policies and procedures for graduate programs. The School of Graduate Studies is located in 232 of the John E. Thomas Building; the Dean of the Graduate School is Dr. Michael McKenzie.